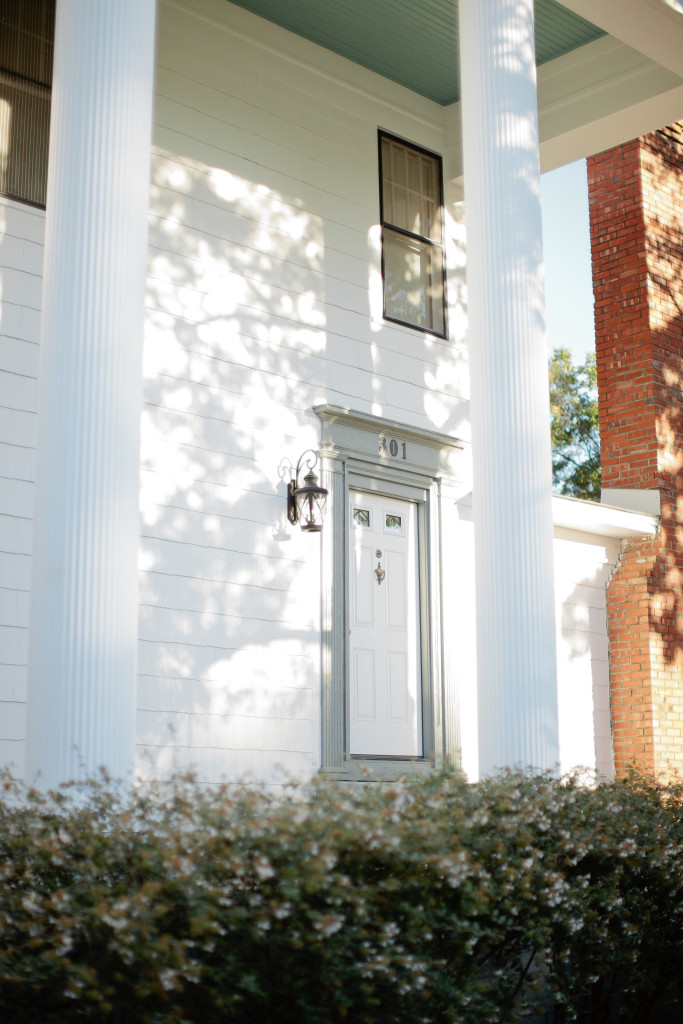 According to the abstract for the property, Louis B. Griffing purchased the land from the Muskogee Creek Nation in 1904. The property was mortgaged three times by 1907 so the original basement and two-story home was probably completed by statehood.
The Griffings rented rooms to unmarried female teachers sometime between 1910 -1918. Long time friends, Irene Staley (later Mrs. George Stidham) and Carolyn McCluskey (later Mrs. L.K. Sharpe) boarded at the same time, which made it convenient for friends George and L.K. to court the girls. L.K. and Carolyn married in 1918.
In 1928, L.K. left his store with a caretaker manager and moved wife Carolyn, and two sons, Lou and Joe, to Wisconsin. He had accepted a two-year commitment to operate a chain of dry goods stores headquartered in Fond du Lac. In 1930, L.K. asked George to arrange his purchase of the house at the corner of Okmulgee and NW 2nd Street while the family made their way back to Oklahoma. The sale was finalized in January 1931. Daughter Ann completed the family in 1932.
Bummy and Daw, as they were affectionately known, completed many home renovations through the years. The most extensive addition was just after WWII when the south side screen porch became the step down living room. The four columns on the front were added to an expanded west side entrance. Ownership passed from the Sharpe family after the death of Carolyn in 1985. The house was then sold and had various owners, including Kay Mitchell Kindt, who even operated a Bed & Breakfast.  After several years of the house remaining empty, it was returned to the Sharpe family when Bummy & Daw's grandson Logan Sharpe and his wife Donna purchased the property in February 2015.
After an intense 8-month renovation, the house was able to host its first family event in nearly 30 years, a wedding rehearsal dinner in October 2015. The solid structure of the house was updated with modern conveniences while maintaining its original character. Several antique furniture pieces that Daw had in the home have also been returned from family members. The large property also includes a patio, 2-car garage and new gravel parking lot.
Sharpe House is now operating as a guesthouse and event venue in Checotah, Oklahoma.